1.1 Presentation and definition of the essential oils market
Essential oils are defined as complex mixtures of natural, volatile and odorous chemical substances contained in all or part of an aromatic plant. Traditionally, these essential oils are extracted by hydro-distillation or cold pressing. Both processes are long and require a certain know-how.
The plants and flowers intended for the production of essential oils are numerous, but we can note as an example the lavender, rosewood, eucalyptus, ylang-ylang, chamomile, tea tree, geranium sweet orange is the most produced essential oil in the world, representing almost a quarter of the market in 2022. It should be noted that the content of essential oils in plants is generally very low, ranging from 0.01% (eg rose petals) to 1% (eg cloves). Thus, to obtain one kilo of pure essential oil, it is necessary to distill between 4 and 7 tons of rose petals, 115 to 200 kg of lavender, or 1 ton of orange blossoms .
There are several players on the market, often with very distinct positions:
Producers of raw plant materials (flowers and plants for the production of essential oils).
The producers of essential oils who distill or cold press the flowers and plants. They vary in size, from craftsmen to large industrial groups.
The consumer companies of essential oils from various industries (cosmetics, pharmaceuticals, food).
Regulatory and control bodies that check the quality and harmfulness of oils and certify them.
France is a major player in the global market of essential oils since in 2022, it ranked third among exporters and second among importers of the market in value. Notably specialized in the production of lavender essential oil, the French market shows increasing production levels and solid demand, with its 30,000 hectares of lavender and lavandin cultivation in 2020, up 7% compared to 2019. In the first half of 2021, France experienced a 7.7% growth in essential oil manufacturing sales compared to 2020, showing that the dynamism of this market is well present.
Evolution of the turnover before tax of the NAF code 20.53Z - "Manufacture of essential oils"
France, 2010-2022, in billions of euros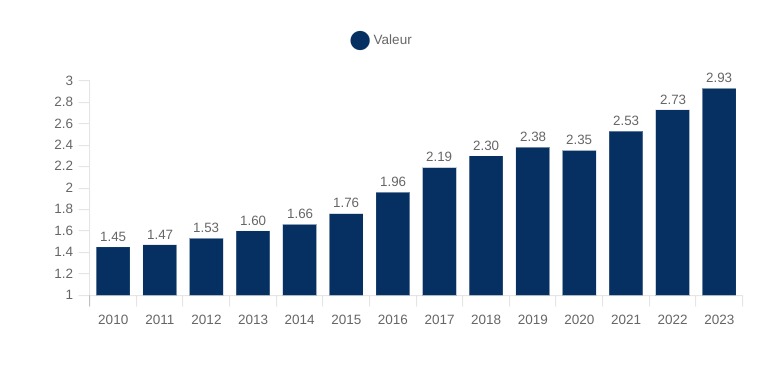 The main outlets for the manufacture of essential oils are thefood industry, perfumes, cosmetics,aromatherapy and cleaning products. Essential oils can be used in different ways: by diffusion, by inhalation, by massage, or in cooking. The world market for essential oils is booming, driven by the trend of organic, natural and homemade products, or by the trend of aromatherapy.
1.2 The growing global market
Global Market:
The global market for essential oils is growing rapidly. It is estimated in **** at $**.* billion according to Grand View Research and is expected to grow at a compound annual rate of *.*% between **** and ****. This results in the following forecast:
Global essential oils market World, ****-****, in billion dollars Source: ...
1.3 France, a major player in the world
NAF code **.**Z "Manufacture of essential oilsEssential oils belong to NAF code **.**Z "Manufacture of essential oils", this NAF code includes the manufacture of essences of natural aromatic products, the manufacture of resinoids (***), the manufacture of compositions based on odoriferous products for perfumery or food.
The turnover HT of the production ...
1.4 Impact covid : essential oils, the new remedy ? No, but...
Considered as a remedy against the COVID-**, essential oils have been talked about during the health crisis, with many French people who wanted to use them, wrongly, in order to clean the indoor air in the house or in cars for example. This information was nevertheless quickly denied by the media, ...
2.1 Consumers and essential oils
To understand who were the consumers of essential oils, the website plante-essentielle.com conducted a survey in **** with *** respondents to profile the types of users of essential oils in France. This survey concerns only individual users of essential oils and not industrialists for food or cosmetics.
Profile of consumers
We note ...
2.2 Aromatherapy, a seductive use of essential oils
The previous survey showed that the popularity of essential oils came from the desire to treat oneself naturally, this practice corresponds to aromatherapy, which has been democratized in France in recent years [***]. This method consists of the use of essential oils for medicinal purposes.
According to a Harris Interactive study in ...
2.3 The organic and DIY trend
DIY, Do It Yourself, is a trend that has been taking hold for a while and that has been able to take its mark with the confinement since it has given the French time to discover this activity. Thus in ****, **% of French people would have used at least one DIY activity ...
3.1 Production and transformation of essential oils
Essential oils come from the production of aromatic plants. These plants can be used in three ways: in aromatic solutions (***)
Value chain of the essential oils market : Production - Processing - Consumption
Source: ****
The essential oil manufacturing market in France is very fragmented and artisanal. This fragmentation of the market is ...
3.2 French production on the rise
NAF code **.**Z "Manufacture of essential oils"As a reminder, essential oils belong to NAF code **.**Z "Manufacture of essential oils".
The number of companies manufacturing essential oils has not changed much in recent years. In ****, *** essential oil manufacturing companies are registered.
Evolution of the number of companies in NAF code ...
3.3 Distribution dominated by specialized channels
In this part, we are interested exclusively in the distribution of essential oils to the general public, and therefore the sale to the final consumer through different distribution channels. The main distribution channel is pharmacies and parapharmacies, followed by the Internet and organic stores according to the file on the market ...
3.4 A market marked by a plurality of players
Players in pharmacies and parapharmacies:
Unit essential oils market share in pharmacies and parapharmacies France, ****, in percentage Source: ****
There is a wide variety of companies in the essential oils sector, and the distribution channel of pharmacies and parapharmacies is no exception. In the sale of pure essential oils, there are predominant ...
4.1 The different essential oils and the different uses
Properties of essential oils:
The chemotype is an identity card that allows to differentiate essential oils extracted from the same plant species. Each chemotype allows to identify the characteristics and powers of each essence. It is an essential notion to define the impact and the virtues of an essential oil. It ...
4.2 Prices vary greatly from one essential oil to another
The expert site Ooreka has done an analysis of the average price of essential oils on the market:
Source: ****
We are interested in the average prices of the essential oils most sold in pharmacies in order to highlight the strong disparities. The prices are very different from one EO to another, ...
4.3 A demand for organic products
The consumption of organic products is increasing as seen in *.* and essential oils are no exception, which is why we can observe an increase in the number of certified organic PPAM farms in order to meet the demand:
Evolution of the surface area and the number of certified organic PPAM farms France, ...
4.4 Training in aromatherapy
There is a growing demand for training in aromatherapy, whether for personal use or for professional retraining, such as in reflexology, kinesiology, aromatherapy consulting... There are many jobs related to aromatherapy and essential oils.
Cost of training:It is possible to train face-to-face, online or by reading.The price will depend ...
5.1 One use, one regulation
The regulations applicable to essential oils depend on the use recommended, some have even been placed in dangerous substances, see here.
Active substances of medicines : - According to the public health code, herbal medicines are exempt from marketing authorization. They are subject to a registration obligation with the National Agency for ...
To keep reading, buy the full research
What is in this market study?
What are the figures on the size and growth of the market?
What is driving the growth of the market and its evolution?
What are the latest trends in this market?
What is the positioning of companies in the value chain?
How do companies in the market differ from each other?
Access company mapping and profiles.
Data from several dozen databases

---

This market study is available online and in pdf format (30 p.)
Our other products
Pack 5 études (-15%) - France
378 €
Buy
Method
Data

Analysts

1 sector analyzed
in 40 pages

Method

Control
Analysts

Top Universities
Expert opinion

Data

Databases
Press
Company reports

Control

Continuously updated
Permanent watch

Method

Synthetic structure
Standardized charts
Reviews (1)
The essential oils market - France
Publicado en 09/01/2022 by Lorraine Ferry
Very complete study which shows in particular that the development of the consumption of essential oils accompanies the wave of the soft medicine and the do it yourself which seduces the consumers in more and more fields
---
Businesscoot Response:
Hello Lorraine, Thank you very much for this very positive review! We are delighted to see that you appreciate our studies and we thank you for the trust you have placed in us.
Customer cases and references