Turnover: 1 billion EUR (2021)
Country: France
Labeyrie is a French agri-food industrial group that owns the Labeyrie, Blini, Delpierre, Labeyrie Traiteur Surgelés, le Traiteur Grec and Farne of Scotlans brands.
The group's sales are divided into two equal parts: one half is generated by its brands and the other half as a subcontractor for private brands.
The company's shareholding is shared between the Lur Berri agricultural cooperative (43%), the PAI partners investment fund (43%) and the company's management (14%).
News

Foie gras producers shaken by repeated crises 25/08/2023
Labeyrie is the leader in volume (22% market share) and value (30%) in the foie gras sector.
Ducs de Gascogne's foie gras business has fallen from 20% to 10% since 2017
Historic 33% drop in foie gras production by 2022
The Gers département accounts for 10% of foie gras volumes
Pays de la Loire supplies 70% of ducklings to French breeders
Almost 70% of foie gras sales take place in November and December
400.000 ducks to go missing following the resurgence of avian influenza in May
One million palmipeds slaughtered since May due to return of avian influenza
Almost 90% of duck breeding stock decimated by avian flu crisis
Sales of Canards d'Auzan down from 80 to 55 million euros in 2022
Lafitte's volumes halved in 2022, bringing sales down to 19 million euros from 30 million in 2021

Robots are at the heart of the Labeyrie slaughterhouse. 25/05/2022
Labeyrie aims to modernize its working conditions, moving away from assembly-line work, cold, gruesome and repetitive tasks
In 2021, the slaughterhouse has invested 1.5 million euros in an automation project.
The robot aims to reduce human handling
1,800 ducks are processed every hour, with constant monitoring by human employees.
Labeyrie employs 220 full-time equivalents, 80% of whom are on permanent contracts.

Labeyrie Fine Foods invests in its shrimp factory in Saint-Aignan-de-Grandlieu, near Nantes. 22/04/2022
Labeyrie Fine Foods is to invest nearly 15 million euros to modernize and increase capacity at its Saint-Aignan-de-Grandlieu shrimp processing and packaging plant, near Nantes.
The site processes 8,500 tons of shrimp a year, and currently produces 30 million consumer units a year.
The company expects to increase its capacity by 40-50%
The site claims a 50% share of the French market in the processed shrimp segment
The plant, which employs 240 people and 50 temporary staff, will gain 20 to 30 additional jobs
february 9, 2016 - Labeyrie, leader in refined and festive products - source ( Capital )
Over the past 10 years, the brand has acquired Blini, Delpierre and Brossards surgelés.
870 million euros in sales
Sales more than tripled between 2005 and 2015.
In 2016, it was France's number-one producer of caviar, smoked salmon, foie gras, shrimps, tarama, frozen aperitifs and frozen cakes.
december 24, 2020 - Labeyrie wants to sell more abroad - source ( LesEchos )
Over the next five years, Labeyrie aims to double its foreign business and increase its foreign sales from €380 million to €800 million.
It intends to develop the plant sector, which accounts for 15% of sales, and aims to reach 25% of sales.
Financial Data
DUNS: 347902587
Legal Name: LABEYRIE
Address: 39 RTE DE BAYONNE , 40230 SAINT-GEOURS-DE-MAREMNE
Number of employees: Entre 1 000 et 1 999 salariés (2020)
Capital: 8 785 599 EUR
Financial Data:
| Year | 2020 | 2019 | 2018 | 2017 | 2016 | 2015 |
| --- | --- | --- | --- | --- | --- | --- |
| Turnover | 290 399 992 | 320 646 990 | 325 413 785 | 337 110 250 | 333 264 290 | 282 601 424 |
| Gross margin (€) | 170 561 978 | - | 210 779 962 | 198 234 304 | 197 810 854 | 167 322 924 |
| EBITDA (€) | 2 854 516 | - | 29 892 583 | 18 953 257 | 15 495 505 | 20 017 444 |
| Operating profit (€) | 11 709 448 | - | 35 034 491 | 21 897 112 | 17 360 691 | 22 162 859 |
| Net profit (€) | 14 724 494 | 17 136 700 | 26 504 670 | 20 500 730 | 13 534 830 | 18 599 764 |
| Turnover growth rate (%) | -9,4 | -1,5 | -3,5 | 1,2 | 17,9 | - |
| Ebitda margin rate (%) | 1 | - | 9,2 | 5,6 | 4,6 | 7,1 |
| Operating margin rate (%) | 4 | - | 10,8 | 6,5 | 5,2 | 7,8 |
| Working Capital (turnover days) | 48,8 | - | 52,9 | 56,4 | 69,9 | 55 |
| Working Capital requirements (turnover days) | 65,8 | - | 31,2 | 10,5 | 35 | 46 |
| Net margin (%) | 5,1 | - | 8,1 | 6,1 | 4,1 | 6,6 |
| Added value / Turnover (%) | 25,2 | - | 29,1 | 24,1 | 23,6 | 25,7 |
| Wages and social charges (€) | 64 004 980 | - | 57 666 886 | 56 677 723 | 57 923 241 | 46 305 853 |
| Salaries / Turnover (%) | 22 | - | 17,7 | 16,8 | 17,4 | 16,4 |
Studies mentioning this company
Estimated traffic on theLabeyrie site
Estimated traffic on the Labeyrie site
France - 2020-2021, visitors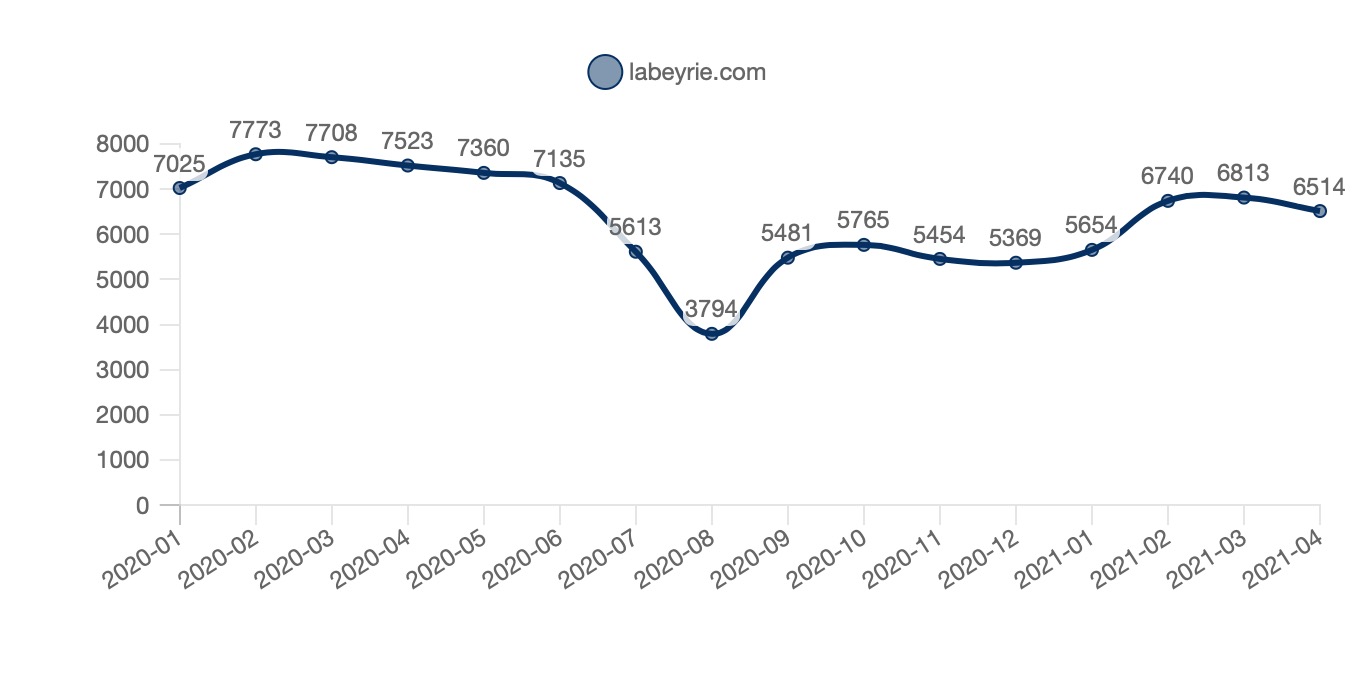 main keywords on which the Labeyrie is positioned
| | | | |
| --- | --- | --- | --- |
| Keyword | Position | Previous position | Search volume |
| labeyrie | 1 | 1 | 5400 |
| foie gras labeyrie | 1 | 1 | 2400 |
| labeyrie | 2 | 0 | 5400 |
| labeyrie salmon | 1 | 1 | 720 |
| labeyrie foie gras | 1 | 1 | 720 |
| labeyrie smoked salmon | 1 | 1 | 480 |
| labeyrie salmon | 1 | 1 | 260 |
| labeyrie foie gras | 2 | 2 | 720 |
| labeyrie wild smoked salmon | 1 | 1 | 170 |
| labeyrie logo | 1 | 1 | 140 |
Main competitors of Labeyrie
Estimated brand awareness for the Labeyrie line
Google searches with and without brand