Turnover: 6.6 billion EUR (2020)
Country: France
Spie is a specialized company that operates in several fields:
Electrical, mechanical and climatic engineering;

Energy;

Communication networks.
The company was founded in 1900 and has grown progressively, notably in 1968 through the merger with Société de Construction des Batignolles, to become a global company with 46,500 employees
News

Construction and public works welcome concrete 3D printing technology, a new innovation 14/06/2022
Five single-family homes show that 3D concrete printing has reached a milestone in France.
Material savings have been in the order of 50%.
Spie Batignolles, which has already acquired a first unit from XtreeE, is considering adding one or two more "heads" to extend its network in France.
Financial Data
DUNS: 823461611
Legal Name: SPIE FRANCE
Address: 10 AV DE L ENTREPRISE , 95800 CERGY
Number of employees: Entre 100 et 199 salariés (2020)
Capital: 87 506 182 EUR
Financial Data:
| Year | 2021 | 2020 | 2019 | 2018 | 2017 | 2016 |
| --- | --- | --- | --- | --- | --- | --- |
| Turnover | 112 116 151 | 98 342 153 | 100 238 019 | 86 078 354 | - | - |
| Gross margin (€) | 121 533 165 | 110 896 402 | 108 620 551 | 86 514 670 | 1 | - |
| EBITDA (€) | 11 787 145 | 3 335 297 | 6 144 261 | 1 485 585 | -3 574 | -3 089 |
| Operating profit (€) | 8 846 361 | 2 444 500 | 3 732 276 | -640 691 | -3 574 | -3 089 |
| Net profit (€) | 72 160 542 | 126 203 014 | 58 487 464 | -2 715 076 | -3 574 | -3 089 |
| Turnover growth rate (%) | 14 | -1,9 | 16,4 | - | - | - |
| Ebitda margin rate (%) | 10,5 | 3,4 | 6,1 | 1,7 | - | - |
| Operating margin rate (%) | 7,9 | 2,5 | 3,7 | -0,7 | - | - |
| Working Capital (turnover days) | 241,4 | 498,5 | 185,6 | -10,7 | - | - |
| Working Capital requirements (turnover days) | -12 | -28,4 | -29,3 | -17,7 | - | - |
| Net margin (%) | 64,4 | 128,3 | 58,3 | -3,2 | - | - |
| Added value / Turnover (%) | 29,3 | 20,3 | 19,7 | 14,1 | - | - |
| Wages and social charges (€) | 15 844 620 | 14 336 609 | 12 952 261 | 10 051 108 | - | - |
| Salaries / Turnover (%) | 14,1 | 14,6 | 12,9 | 11,7 | - | - |
Company Managers:
| Position | First Name | Last Name | Age | Linkedin |
| --- | --- | --- | --- | --- |
| Président | Gauthier | LOUETTE | 62 | |
| Directeur général | Olivier | DOMERGUE | 55 | |
| Directeur général | Arnaud, Patrick, Jacques, René | TIRMARCHE | 47 | |
Studies mentioning this company
Traffic estimate for the SPIE website
Estimated traffic for SPIE's website
France - 2020-2021, visitors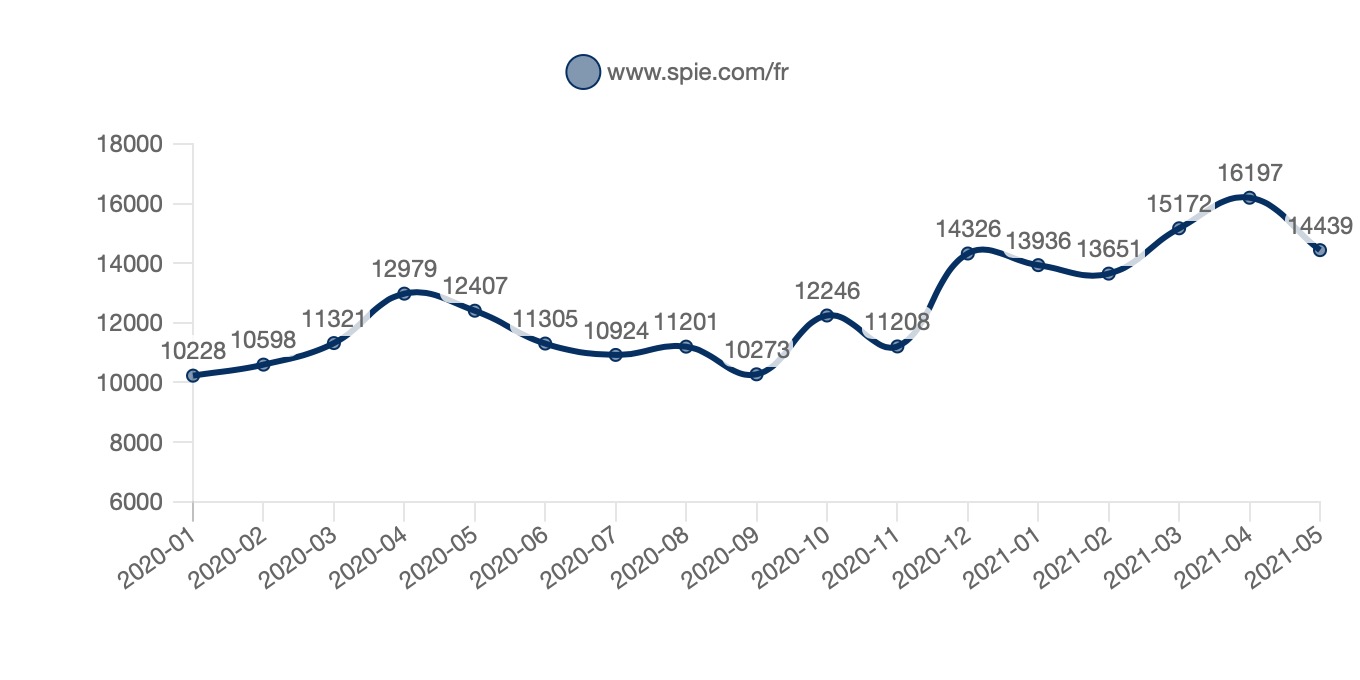 Main keywords on which theSPIE
| | | | |
| --- | --- | --- | --- |
| Keyword | Position | Previous position | Search Volume |
| spie citynetworks | 1 | 1 | 1600 |
| spie share | 4 | 5 | 18100 |
| spie facilities | 1 | 1 | 1300 |
| spie nucléaire | 1 | 1 | 1000 |
| patrick jeantet | 1 | 1 | 1600 |
| spie industrie et tertiaire | 1 | 1 | 720 |
| spie bourse | 7 | 9 | 6600 |
| spie marseille | 1 | 1 | 320 |
| spie energie | 1 | 1 | 320 |
| spie saint herblain | 1 | 1 | 320 |
| spie feyzin | 1 | 1 | 320 |
| spie recruitment | 4 | 2 | 3600 |
| spie rennes | 1 | 1 | 260 |
Estimated brand awareness for SPIE ligne
Google searches with and without the brand