Turnover: 280 million EUR (2018)
Country: France
Caudalie is a French multi-channel skincare company, specializing in anti-aging skincare, body care, fragrances and masks. The ingredients are derived from the vine.
The company is active in the fields of toxicology and ecology. It refuses to use artificial preservatives, mineral oils and animal by-products
Studies mentioning this company
Traffic estimate for the Caudalie website
Estimated traffic for the Caudalie website
France - 2020-2021, visitors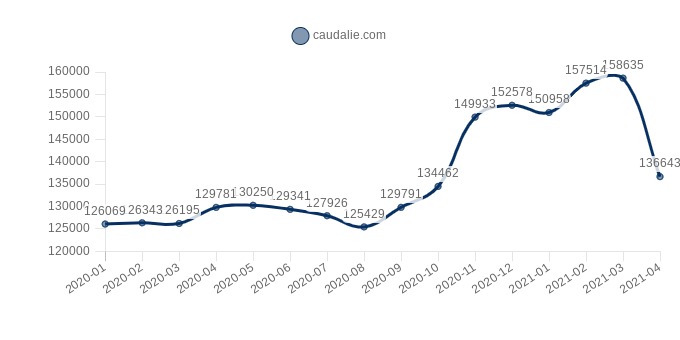 Caudalie's main competitors
Source SEMRUSH
The level of competition is calculated based on the number of keywords of each competitor and the total number of keywords common to all competitors. If websites have a high number of common keywords, they can be considered competitors.
Estimation of Caudalie's brand awareness online
Google searches with and without the brand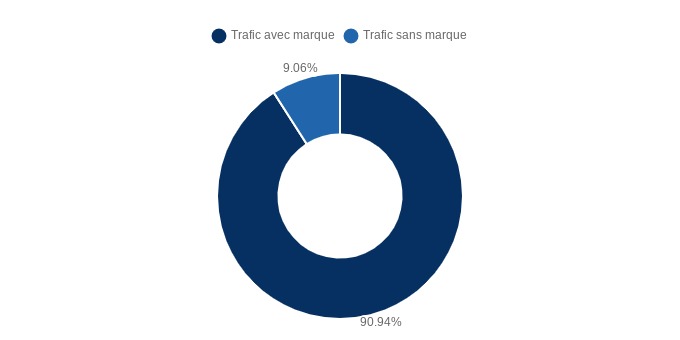 ---
Official Caudalie website - Free delivery from 39€ onwards
https://fr.caudalie.com/
Order on the Official Site and benefit from Exclusive Advantages. Cosmetics without parabens, with active ingredients from the vine, creator of Vinotherapy. Loyalty program. 2 Travel Formats Offered. Vegan. Natural cosmetic care.
---
Caudalie Vinoperfect - Anti-Brown Spot Serum
https://fr.caudalie.com/n°1-anti-spot
Works on all types of blemishes, all skin types, even the most sensitive. A 3-step anti-spot routine for a visibly brighter and more radiant complexion. Free delivery from 39€. 2 travel sizes available. Loyalty program. Vegan.
---
Spa Les Sources de Caudalie - Vinotherapy treatments in Martillac
https://fr.caudalie.com/vinotherapie/spa-les-sources
An exceptional interlude in the heart of the vineyards of Château Smith Haut Lafitte. Treatments unique in the world, based on grapes, for a moment of absolute relaxation. 3 free trial treatments. Loyalty program. Free delivery from 49€. Natural cosmetic care. Vegan.
---
Receive free alerts on this company