Turnover: 9.8 million EUR (2021)
Country: France
Main distributor of comics in France, its titles receive many titles each year. P everal of the books distributed by Delsol are selected by the Angoulême Festival. In 2019, the manga Wonderland T3 had this honor, with the comic book the Prince and the Seamstress receiving the Prix Fauve Jeunesse that same year.
Born in 2003 under the impetus of Delcourt and Soleil - a company that came under the control of Delcourt in 2011 - 22 publishers are distributed by the company today. It works with the distributors Hachette and Interforum to expand its distribution channels.
Delsol Diffusion is also recognized in the manga sector and works with manga publishers such as Kazé, Tonkam and Soleil Manga. Its role is to print the works and to ensure their delivery to the points of sale.
Financial Data
DUNS: 449685007
Legal Name: DELSOL
Address: 6 RUE LEON JOUHAUX 6-8, 75010 PARIS 10
Number of employees: 0 salarié (2022)
Capital: 8 000 EUR
Financial Data:
| Year | 2021 | 2020 | 2019 | 2018 | 2017 | 2016 | 2015 |
| --- | --- | --- | --- | --- | --- | --- | --- |
| Turnover | 9 788 500 | 6 063 000 | 6 457 000 | 6 340 522 | 5 894 000 | 6 160 000 | 5 832 031 |
| Gross margin (€) | 10 268 800 | 6 619 200 | 6 940 900 | 6 862 006 | 6 408 500 | 6 676 000 | - |
| EBITDA (€) | 7 261 500 | 4 246 500 | 4 214 400 | 3 611 224 | 8 953 300 | 3 578 000 | - |
| Operating profit (€) | 6 585 500 | 3 786 300 | 3 668 700 | 3 151 614 | 9 435 000 | 3 578 000 | - |
| Net profit (€) | 4 668 800 | 2 603 000 | 2 367 000 | 2 592 778 | 1 995 000 | 2 250 000 | 2 021 074 |
| Turnover growth rate (%) | 61,4 | -6,1 | 1,8 | 7,6 | -4,3 | 5,6 | - |
| Ebitda margin rate (%) | 74,2 | 70 | 65,3 | 57 | 151,9 | 58,1 | - |
| Operating margin rate (%) | 67,3 | 62,4 | 56,8 | 49,7 | 160,1 | 58,1 | - |
| Working Capital (turnover days) | 17,7 | 44,1 | 49,5 | 48,2 | 64,5 | 47,1 | - |
| Working Capital requirements (turnover days) | 66,4 | 89 | 76,9 | 80,4 | 73,1 | 74,7 | - |
| Net margin (%) | 47,7 | 42,9 | 36,7 | 40,9 | 33,9 | 36,5 | - |
| Added value / Turnover (%) | 81,3 | 80,2 | 78,2 | 76,6 | 122,8 | 78,2 | - |
| Wages and social charges (€) | 1 094 800 | 1 074 000 | 1 225 000 | 1 192 036 | -1 125 200 | 1 190 000 | - |
| Salaries / Turnover (%) | 11,2 | 17,7 | 19 | 18,8 | -19,1 | 19,3 | - |
Studies mentioning this company
Estimated traffic for the Delsol Diffusion site
Estimated traffic of the Delsol Diffusion website
France - 2020-2021, visitors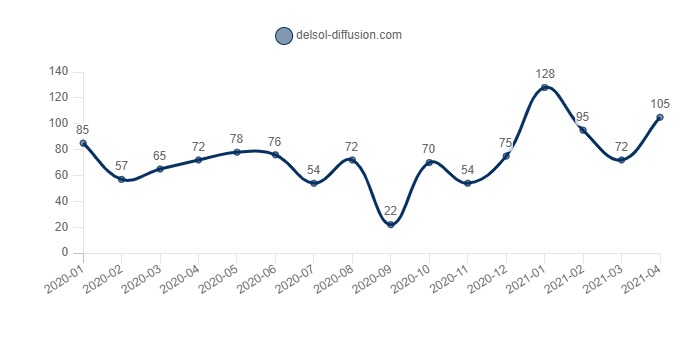 Main keywords on which the Delsol Diffusion site is positioned
Main competitors of Delsol Diffusion