Turnover: 20.1 billion EUR (2021)
Country: Germany
Henkel AG & Company, is a German chemical and consumer goods company headquartered in Düsseldorf, Germany.
It is a multinational company active in both the consumer and industrial sectors. Founded in 1876, the company, which belongs to the DAX 30 stock index, is organized into three units;
Laundry & Home Care;
Beauty Care ;
Adhesive Technologies
The company is known for brands such as Loctite, Persil and Fa among others.
News
august 13, 2019 - Declining results and a stock market that punishes the group - source(Les Echos)
The poor health of the automotive industry is shaking up other sectors and this has led to a slowdown in activity for Henkel.
The stock had lost 6% at the time on the Frankfurt stock exchange.
In early 2019, the group invested 300 million in its marketing sector.
There was a decline in sales to the tune of 0.4%.
The beauty sector in the supermarkets is struggling.
may 6, 2021 - A good start to 2021 - source(Henkel, press release)
Results better than expected, targets revised upwards
Sales grow by 7.7% to almost 5 billion euros. (nominal growth of 0.8%)
All businesses achieved positive organic sales growth.
Studies mentioning this company
Traffic estimation for the Henkel website
Estimated traffic for the Henkel website
France - 2020-2021, visitors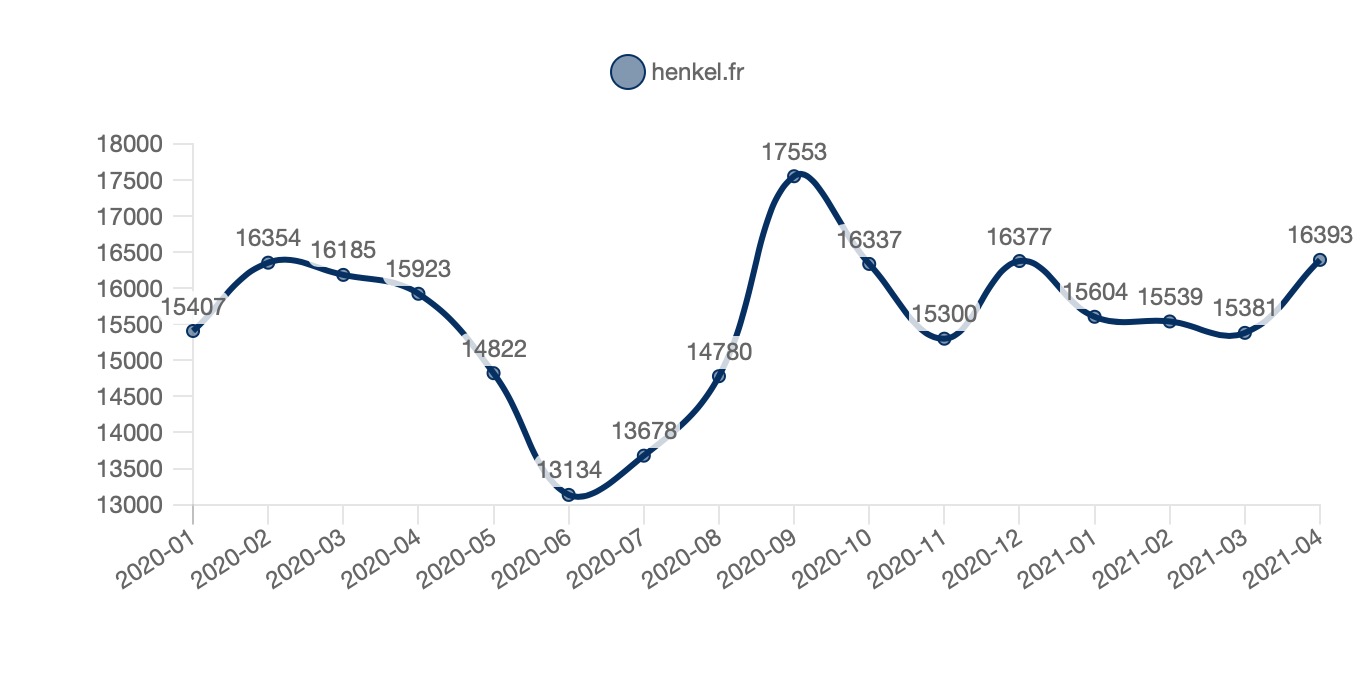 Main keywords on which the Henkel website is positionedHenkel
Main competitors ofHenkel
Source : SEMRUSH
The level of competition is calculated based on the number of keywords of each competitor and the total number of keywords common to all competitors. If websites have a high number of common keywords, they can be considered competitors.
Estimation of Henkel's online brand awareness
Google searches with and without the brand