Turnover: 50.724 billion EUR (2020)
Country: Netherlands
Unilever is a multinational company of Anglo-Dutch origin. Its headquarters are located in London (England) and Rotterdam (Netherlands).
The company is the world's fourth largest food group in terms of sales and has several brands in the field of make-up and cosmetics. Its products include food and beverages (about 40% of its sales), household products and personal care products. Unilever is one of the oldest multinationals and its products are available in about 190 countries.
The company has more than 400 brands organized into four main categories: Food, Refreshments, Home Care and Beauty.
Lhe company is present in more than 100 countries and is the fourth largest food company in the world and the largest tea producer. It has more than 400 brands, including Lipton, T.O by Lipton and Elephant.
News
november 30, 2020 - Unilever becomes 100% British - source(Les Echos)
The entity present in the Netherlands disappears and joins London
The company is now positioned on the stock market with a single capitalization and a single share class
The tea part of the group generated 3 billion in revenue in 2019 despite declining volumes
Unilever bets 1 billion to become more environmentally friendly
Unilever France in figures - source (Europages)
average number of employees: 500
its business area is dedicated to condiments and spices
Studies mentioning this company
traffic Estimates for Unilever's website
Estimated organic traffic for Unilever
France - 2020-2021, visitors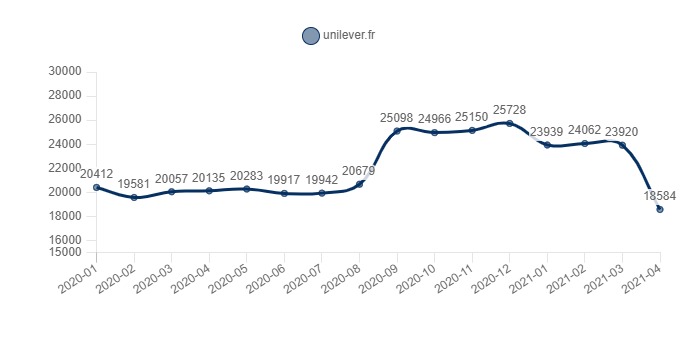 Main keywords on which the Unilever website is positioned
Estimated brand awareness for Unilever online
Google searches with and without the brand