Turnover: 490 million EUR (2020)
Country: France
Léa Nature is a French manufacturer of natural and organic products.
Founded in 1993 by Charles Kloboukoff, this family-owned and independent company holds 16 points . Its growth is close to 50% between 2013 and 2015.
The objective of the company is mainly to manufacture and sell natural products that are an alternative to agrochemicals. The company operates in the fields of food, dietetics, beauty and hygiene.
The company is part of the 1% club for the planet and donates 1% of the turnover of its organic brands to environmental associations.
News
august 6, 2020 - Léa Nature faces competition from other major brands - source ( Les Echos )
Léa Nature is an ETI
2/3 of its sales are generated in stores
14 production sites
Objective 2025: 40% of products from fair trade
Increase the proportion of products manufactured in France from 72% to 80
Leading contributor to the growth of organic food in France with 20 million euros
Increase of the communication budget from 3 to 5% of the turnover
Revenues should be around 500 million euros in 2020
Studies mentioning this company
Founding President : Charles Kloboukoff ( profile )
Estimated traffic for the Léa Nature website
Traffic estimates for the Léa Nature website
France - 2020-2021, visitors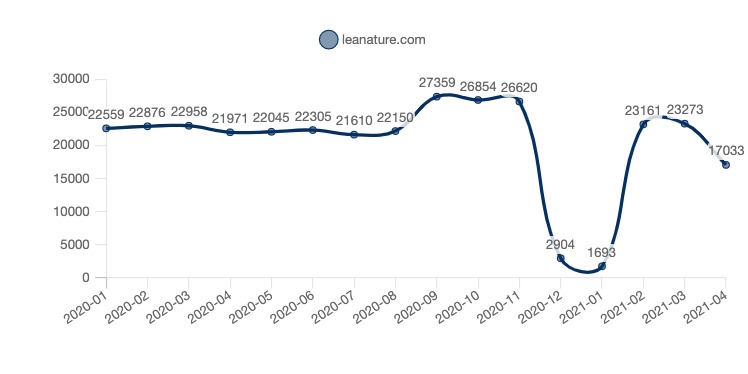 Main keywords on which the Léa Nature website is positioned
Main competitors of Léa Nature
Source : SEMRUSH
The level of competition is calculated based on the number of keywords of each competitor and the total number of keywords common to all competitors. If websites have a high number of common keywords, they can be considered as competitors.
Estimation of the awareness of the brand Léa Nature online
Google searches with and without the brand