Company profile
- Last update 19/10/2021
Name: Decathlon
DUNS: 500569405
Turnover: 11.4 billion EUR (2020)
Website: https://www.decathlon.fr
Description
Decathlon France is the French subsidiary of Decathlon.
Decathlon (or Oxylane from 2008 to 2014) is a French retailer of sports and leisure products, founded in 1976 by Michel Leclercq.
The Decathlon group is not listed on the stock exchange, but is owned by a family holding company made up of 3 entities: the family of the former founding president, the employees and the Mulliez family. Its headquarters are located in Villeneuve-d'Ascq.
With more than 1,176 stores in 69 countries, including 324 in France, the group estimates its global turnover at more than €12.4 billion in 2019 and €3.3 billion in France.
The company does not own a brand but is a reseller. Its range is not the best on the market. In 2020, some of its scooters had to be recalled on the orders of the DGCCRF, because they had a malfunction.
Management and Shareholders
Estimated traffic on the Decathlon website  
Estimation of the traffic on the Decathlon website
France - 2020-2021, visitors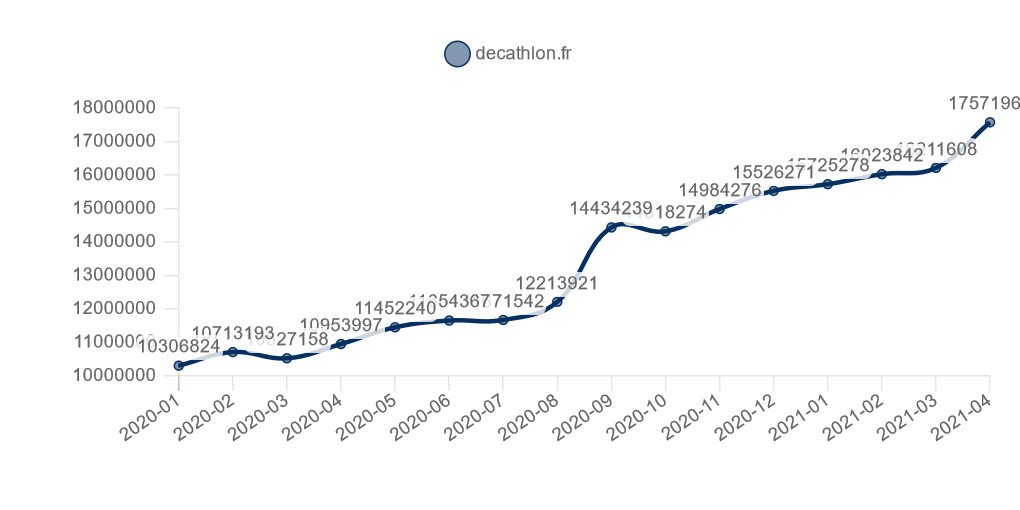 Main keywords on which the Decathlon website is positioned
Decathlon's main competitors
Source : SEMRUSH
Estimated brand awareness for Decathlon online
Google searches with and without the brand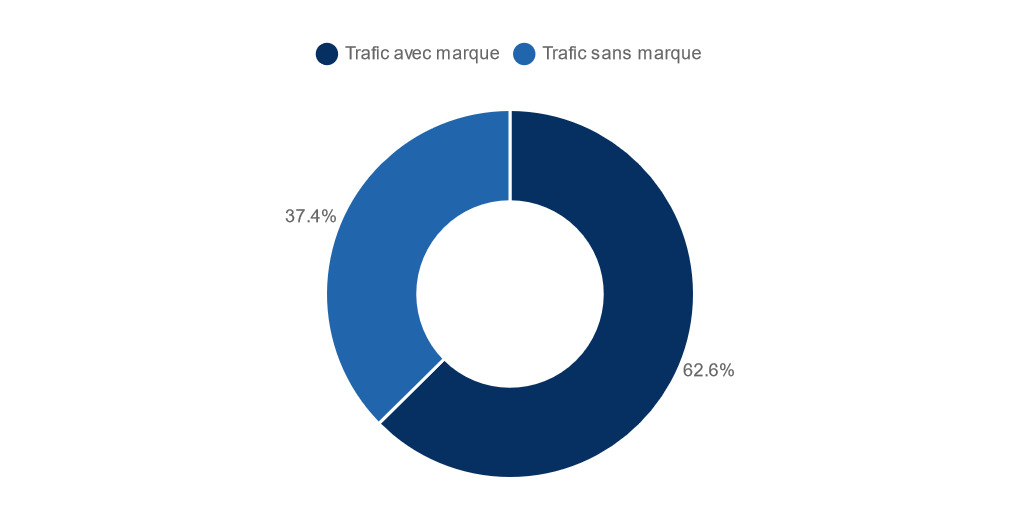 Examples of online advertising
---
Trampolines - Low prices at Decathlon - decathlon.com
https://www.decathlon.fr/gym-enfant/trampolines
Find our trampolines on decathlon.com. Fun in your garden! Trampolines: Domyos equips you to practice gymnastics. Free exchanges. Reference after-sales service.
---
Treadmills - Low prices at Decathlon
https://www.decathlon.fr/fitness/tapis_de_course
Find your treadmill on decathlon.co.uk Complete your equipment! Treadmills...
---
Ping Pong table - Very resistant outdoors - decathlon.com
https://www.decathlon.fr/
Find your ping pong table on decathlon.co.uk
---
News
February 11, 2020 - Decathlon business relaunched - source ( Les Echos )
After a 5% drop in sales in 2018, sales increased by 3% in 2019
September 23, 2020 - Decathlon is reducing its workforce - source ( Challenges )
Decathlon has lost 1,738 jobs, or 10% of its workforce, in one year
Yet, a gross profit of 54 million euros at the end of August 2020 despite 300 stores closed during the lockdown
January 21, 2021 - Decathlon, new NBA partner - source ( Les Echos ).
In January 2021, Decathlon signs a partnership with the NBA
Launch of the collection in March
9 NBA franchises in new product line
Decathlon's range of sporting goods put forward
February 15, 2021 - Decathlon launches a sports mask - source ( Le Figaro )
A new mask to allow the practice of sports in the gym
The production of the mask was authorized on February 13 by Afnor, the French standardization association
A mask developed by the Sportlab research laboratory
Decathlon is one of the ten companies to start producing masks for sports